Furniture production and design principles
The entrepreneur Karl Schmidt was as ambitious as he was experimental, and his company, which opened in 1898, quickly enjoyed great success. Karl Schmidt wanted to build modern, functional, and aesthetic furniture that was nevertheless affordable for everyone. Schmidt saw the solution to this in mass production and in combining craftsmanship with industry. He presented the first mass-produced items of furniture in Germany with his machine-made furniture range from 1904.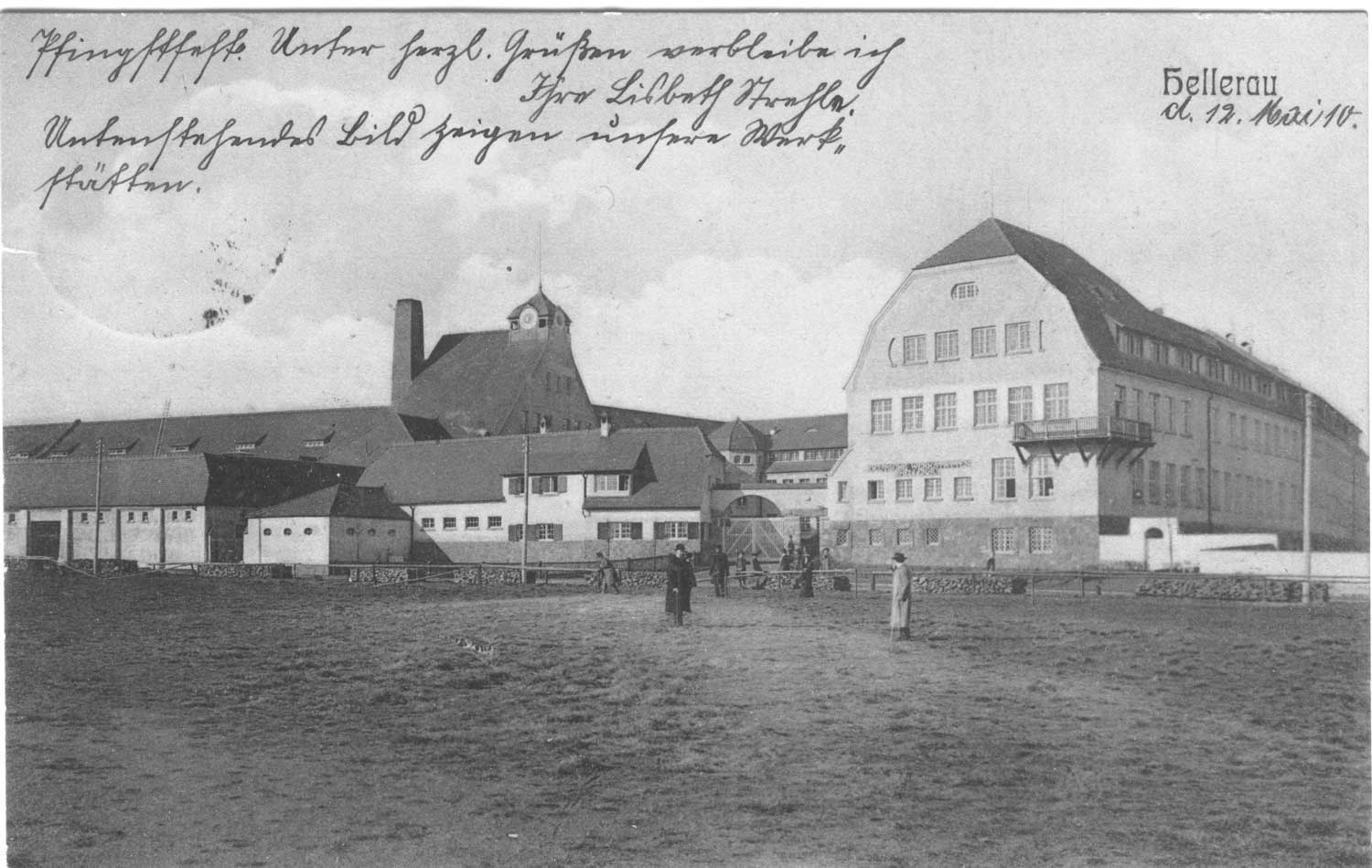 Visionary master carpenter: the entrepreneur Karl Schmidt
In 1898, the trained carpenter Karl Schmidt opened his company in Dresden under the name Bau-Möbelfabrik und Fabrik kunstgewerblicher Gegenstände (Furniture building factory and factory for arts and crafts objects). Contact with high-profile artists and architects, but also business partnerships, were important prerequisites for its imminent success. The company grew rapidly and having been renamed several times and merged with other businesses, traded as Deutsche Werkstätten für Handwerkskunst (German Workshops for Arts and Crafts) from 1907. When the previous production facility had reached its capacity limits, Schmidt looked for and found a new factory location – and the story of Hellerau Garden City began. In 1909, the foundation stone was laid for the garden city and the factory building, and production began in Hellerau as early as spring 1910, now with 450 employees. Only the showrooms remained in the city of Dresden.
The union between craftsmanship and industry
The entrepreneur Karl Schmidt was as ambitious as he was experimental. His products were to be modern, functional, and aesthetic in design, without copying historical forms. Schmidt worked with the architect Richard Riemerschmid from 1902. Both were closely associated with craftsmanship and at the same time were aware that the future belonged to the machine. It only seemed possible to transform good designs into affordable products by mass production, however, they did not see this as a risk but as a great opportunity. Their idea was that craftsmanship and industry had to be united. Schmidt not only needed committed employees for this, but also educated and skilled employees. That is why he introduced further education courses, painting and modelling lessons for his workers. Later, this became the Deutsche Werkstätten Hellerau (Hellerau German Workshops) vocational college and training workshop. 
'Furniture style from the mind of the machine'
In the Deutsche Werkstätten (German Workshops), the machine work segment became a supporting business area. The machine-made furniture range from 1904 was both affordable and aesthetic, as industry and craftsmanship came together here in a new, contemporary form.
The first machine-made furniture was solid wood furniture made of stylised elements, with doors and walls crafted on frames and infills. They were easy to disassemble and assemble, which allowed for space-saving transport. The furniture was launched on the market in three versions with different prices as Dresdner Hausgerät (Dresden furnishings). It was later expanded to Deutsches Hausgerät (German furnishings), which no fewer than twenty designers worked on.